In the early 90's I heard a fella playing mandolin in the Union Concourse of my college University of WI-Milwaukee. I stopped and asked him what it was and he handed it to me and said give her a go! Within days, I was at a local pawn shop downtown called Stein's purchasing a cheap $90 mandolin. My interested with the mandolin evolved as I became more and more steeped in the Jug Band, Bluegrass, Old Time String-bands, Jethro Burns, David Grisman, Jessie McReynolds, The Blue Sky Boys, The Tobacco Tags, and Howard Armstrong aka Louie Bluie. Local multi-instrumentalist Jimmy Waller gave me a few pointers and encouraged my early mandolin skills, while also hipping me to who I ought to be emulating. Much to my surprise, In 1996 I took 2nd place in the Iowa State Mandolin Championships at Avoca, Iowa (as well as 1st place in the Blues Harmonica Category!) As the years have flown by, I've continued to include mandolin in all of my shows and recordings. There are a few records however, were my mandolin playing really shines: Ragged But Beautiful, Blues for the People, and That Old Madness. Check back soon for mandolin webinars as well as a possible book on blues styles for mandolin. 
I have taught blues mandolin at the following stores, music camps and festivals: MandoFest in Lawrence, KS; Traditional Arts Weekend in Remus, MI; StringAlong Weekend in East Troy, WI; Fox Valley Folk Festival in Geneva, IL; Gays Mills Folk Festival, in Gays Mills, WI; Elderly Instruments, Lansing, MI; Gryphon String Instruments in Palo Alto, CA; Dusty Strings Music Store in Seattle, WA
On this page, I humbly present to you an assortment of mandolin instruction resources you can use to learn via whatever method suits you best:
Group Workshop - Private Lessons
—
—
Workshops
Available in-person and on-line
Tailored to groups like music stores, clubs, camps, and festivals with 15 participants or more, this 90-minute workshop is a custom-crafted course showcasing a specific area of study. 
If this workshop is up your alley, get in touch to book it for your next event. (Pro tip for the festival organizers: it's best if we discuss your event before you select specific workshops.)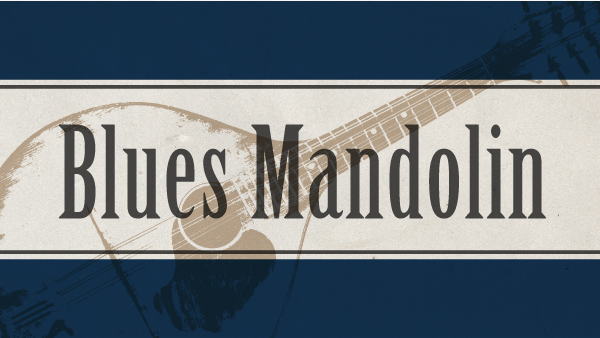 Blues Mandolin
OPEN TO ALL LEVELS WITH BASIC MELODY EXPERIENCE
This course provides sheer mandolin pleasure as we explore the unique world of blues mandolin playing. We'll study double stops, blues scales, minor pentatonic scales, building a riff vocabulary, blues chord shapes including 7th, 9th, 6th, and diminished chord forms, set against a history of the great blues players, repertoire, jug bands and so much more.
—
Private Lessons
Need a little one-on-one time? I offer two levels of music instruction — both with limited capacity. If either one sounds right for you, drop me a line to check on availability and additional details.
Skill-Building Series
This online-only series is designed for players of all levels who want to improve their skills. They consist of 6 one-hour sessions occurring once every 1-3 weeks, depending on our respective schedules. Conducted online via Zoom, each lesson is recorded and made available to the student as a practice resource they can review long after each session.
Cost is $500, paid in advance. Sessions are booked on our calendars up-front, begin on-time and are non-refundable — so be sure to set reminders on your phone or calendar.
Intensive Tutelage
These in-person-only lessons are for dedicated students who are highly motivated, want some real hands-on time with a master and are willing to work hard to achieve their goals. Candidates submit their musical goals via email and a demo video for appraisal. Accepted students arrange their own travel to and lodging in Sheboygan and study in-person in my home studio.
 I provide an abundance of material to work on over the course of 2-3 days, broken up between two hours in the morning and two hours in the afternoon. Students will emerge with a binder full of tunes, techniques and exercises to help them achieve their musical goals. 
Cost varies according to student goals — contact me for details.